**Editor's Note** Today's guest blogger is my son, Steven Toepfer. Steven stays busy as a sophomore at Oakland City University by studying to complete a Business major and developing his thespian skills in the drama department. He has contributed some of his devotional material to this blog over the last several posts. This will be the last post in this particular series. I hope you find it encouraging.
"For God so loved the world, that He gave His only Son, that whoever
believes in Him should not perish but have eternal life."
You're probably wondering why I chose John 3:16, arguably one of the most well-known verses of the Bible. One of my friends mentioned it jokingly offhand as a topic, but I dismissed it with a laugh. But the more I got to thinking of it, the more I realized that its popularity made it an appropriate choice. Growing up, I believe this was the first verse I was taught and memorized, which I believe is true for most other people. Don't get me wrong, this verse is crucial and an excellent starting point for people being exposed to the Bible and Christianity for the first time. But for those who don't accept Christianity or just don't read their Bible, this will probably be one of the only ones they'll remember. But only a piece of the puzzle won't help you solve it.
I guess some think that since this verse is so stressed, it becomes the core of the Bible and theology. But the Bible clearly states that the fullness of time was marked by the life, death, and subsequent resurrection of Jesus Christ. John 3:16 states that God gave His Son, but what does that even mean? It makes no mention of His life, His divine perfection, His sacrifice for our iniquity, nor His miraculous resurrection from the dead and His promise to return to the earth for judgment. Without further knowledge of God and His Son, how can we truly believe?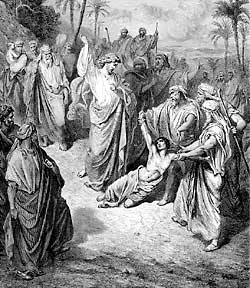 Jesus casts a demon out of a boy in Mark 9.
This brings us to the next part: belief.

James 2:19 says, "You believe that God is one. You do well; the demons also believe, and shudder." Here is the opposite end of the spectrum. James is talking to the Jews in the verse, questioning them on their doctrine. He congratulated them because they knew the right stuff; they had studied and developed their orthodox doctrine and had, metaphorically speaking, gone beyond John 3:16. But he was, in fact, sarcastic and pointed out that even the demons believed in that same thing. Hence, affirming orthodox doctrine is no proof of saving faith. Last December, there was a poll taken about religion with results showing 77% of U.S. adults considering themselves to be Christians. Well, that doesn't sound right; four
out of five people I meet daily don't seem Christian. I think that's because they believe they are, but as I mentioned before, belief is not enough. Belief is a characterization of faith, not the other way around. I may believe in trees, but I certainly don't have faith in them. And that is the important distinction to make. It is faith in Jesus Christ and His life, atonement, resurrection and return characterized by belief but also godly actions, words, and motives. So, why doesn't John 3:16 say all that? Because it is only one verse out of God's Book which is meant to be read and understood in its entirety.
Dear God, I just want to thank You for "so loving the world" and that You would withhold the wrath we deserve, by giving Your Son to us, so that through His death, we might live in eternity with You. But that paradise comes only from a genuine faith in You, a willingness to forgo all sin, to make You our guide and our purpose, and to model ourselves after the perfect life of Your Son.

Belief is a necessary part of our salvation, Lord, and I ask, just as the father of the boy with the unclean spirit did,

for You to help our unbelief and mold it into a saving faith in You.

Amen.